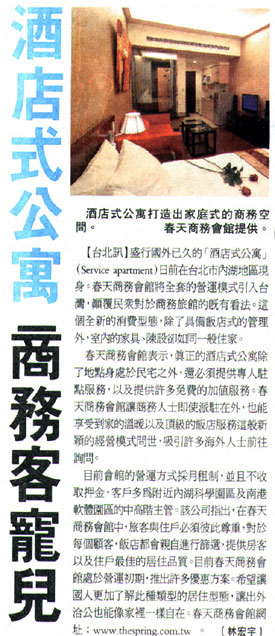 TAIPEI – The Service Apartment, long popular in foreign countries, has now been launched in Neihu, Taipei. The Spring Service Apartment introduces a whole management model set for Taiwan, and changes people's traditional view toward the business hotel. This entirely new, consumer-type apartment comes with hotel-style management, yet the furniture and set-up are just like a residential apartment.
According to the Spring Service Apartment, a true service apartment is not only located among residential housing, but also has to provide on-site services and many free value-added services. The Spring Service Apartment allows people who are doing overseas business travel to enjoy a warm home and a top-notch hotel service, an innovative management model that attracts lots attention and inquiries from foreign guests.
Currently, the Service Apartment entails a monthly rent with no deposit requirement. Our guests are mainly middle-to-high level managers in the Neihu and Nangang Science Park Districts. The Spring points out that residents and travelers in the Service Apartment should respect each other; all customers who apply for a stay in the hotels are carefully selected by the Spring. This is to provide the best quality to room guests and residents. The Spring Service Apartment is starting operation; many premium programs are on the way. The Spring hopes to introduce people in Taiwan to a better understanding of this kind of residential model, and let them feel as comfortable as at home when doing traveling for business.